A Few Words About "Creative Consulting"
What exactly does this term mean? According to the local phone book, I am an artwork appraiser. But they are wrong. Please stop calling me to appraise your garage sale Rembrandt! Thank you... But, back to the question...
To me, Creative Consulting means that I get the job done for your company, in the way that you want it done. Your website design will be easy to navigate, aesthetically pleasing, and ready for anything you want to add to it in the future. I can provide website hosting for a reasonable rate, and an email account to call your own, and then maintain your site making both big changes (incorporating a database-driven design or adding some Flash-y effects) and small ones. And then, when you are ready to promote your site, I can help you make sense of your Analytics, SEO, Keywords, Meta Data, and AdWords, but even explain what they mean!
Creative Consulting is all about helping you understand what the web has to offer, and then helping to bring YOUR vision to life!
BarakTCC History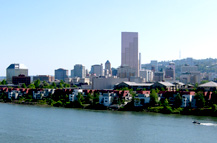 In 1976, on a brisk fall day, a child was born. Now, jump forward 32 years...
Having just given up a comfortable (if not cushy) government job in order to move to the Pacific North West (Portland, Oregon area to be precise) and take care of the aging lady who birthed me those many years ago, I decided to start my own business using the web design, print design, professional/creative writing and project management skills I had developed over the past 9 years and also to practice writing incredibly long and cumbersome sentences like the one you are reading right now.
Expertise
Degree: AS - Computer Science
Professional Writing: 18+ years
Website/Print Design: 16+ years
Project Management: 15+ years
Database Design: 12+ years